Halloween House of Horrors at Ardgillan
It's that time of year again when the veil between the worlds is thin. Ardgillan Castle's ghosts have stirred and are ready to wreak mayhem and havoc.
For Halloween the castle is covered in darkness. Not for the faint-hearted this tour will be scarier than ever!!!
This year our format has changed…VISITORS WILL GO THROUGH THE CASTLE ON THEIR OWN WITHOUT A GUIDE……ARE YOU BRAVE ENOUGH TO ENTER?????
Please note that this Halloween we are creating a different style of event. There will not be a performance where you follow a guide through the castle telling a story. Visitors will venture through our house of horrors on their own, entering each space and room in groups of no more than ten people. This will be scarier than ever so please brace yourself…..
Tours available from Friday 27th October – Wednesday 1st November.
€5 per person.
Not suitable for children under 6. Children under the age of 12 must be accompanied by a responsible adult at all times. Beware this tour is very scary and adult supervision is necessary.
Please read the terms and conditions before purchasing your ticket:
Terms & Conditions:
Please retain your email as proof of purchase.
Tickets are non-refundable, non-exchangeable and have no cash value.
All children under the age of 12 must be supervised by adults at all times.
Online ticket sales will close 24 hours in advance of each day.
E-mail: eventardgillan@fingal.ie
Phone: 01 8492212
Address: Ardgillan Castle, Balbriggan, Co. Dublin.
www.ardgillancastle.ie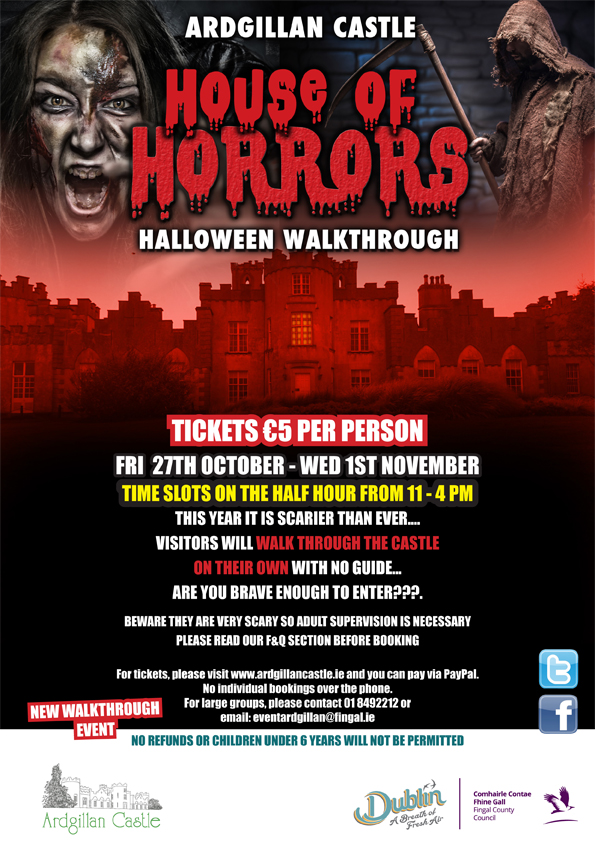 About Ardgillan Castle
Although referred to as a Castle, the residence at Ardgillan is a large country-styled house with castellated embellishments. Originally named "Prospect House", the central section was built in 1738 by Robert Taylor, with the west and east wings added in the late 1800s.
Initially the site was heavily wooded, the name Ardgillan being derived from the Irish "Ard Choill" meaning High Wood. It was cleared out by service soldiers and itinerant workers in return for one penny a day, sleeping accommodation and one meal.
The house consists of two storeys over a basement which extends out under the lawns on the southern side of the building. When occupied, the ground and first floors were the living accommodations while the west and east wings were servants' quarters and estate offices. The basement comprised of the service floor, the kitchen and stores. The Castle has now been restored and the ground floor rooms and kitchens are open to visitors for guided tours.