The "Magic of Christmas" awaits you in Dreamland Fun Centre…
…and it's everything you've ever dreamed of.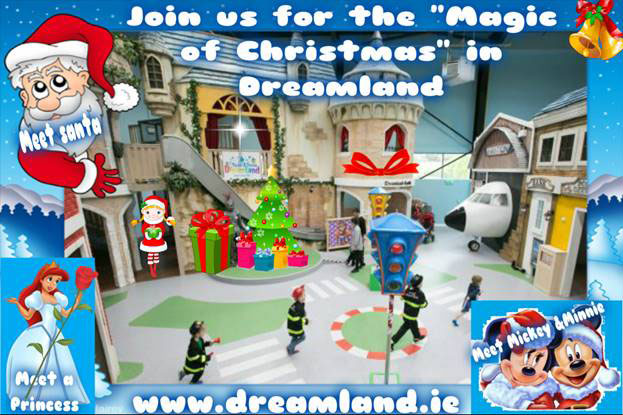 Jump on Santa's flight of Dreams as he welcomes you on board to bring you on an experience outside of your wonderful imagination.
Meet Mrs Claus and the Elves in the Post Office who will help you write that special letter to Santa, then pop into Dreamland town square and drop your letter into our Talking post box.
Climb up to the Tree of Life to our Treehouse and meet Woody and friends.
Meet one of our Dream Princesses and make a 'Christmas Wish' in the Castle of Dreams where you can dress up as a Prince or Princess.
Go on the Super Slide with Mickey and Minnie Mouse! It's great fun!
Dress up as a doctor and make your teddy bear better!
Make your way into the Magic Tree where you'll find the lazy Elf before meeting the most important visitor, Santa Claus!
Book now at Dreamland web site
Dreamland is Ireland's first all-inclusive play centre for all children to play together regardless of their ability or disability.
Dreamland is the vision of the Share A Dream Foundation.