Zombiegeddon Halloween Spooktacular Kildare
is Ireland's Newest Halloween Scare Event. Back due to popular demand, Zombiegeddon 2016. Located only 5kms from Kildare Outlet, this action packed scare event is the thing to do this Halloween. Three attractions designed to test your wits to the limits. If Zombie slaying isn't your thing then brave Screamfields Haunted Field of the Dead unarmed and see if you come out the other end! Something for the younger ones, Zombie Splat Junior is suitable for 8-14 years of age and takes place on Tuesday November 1st.
Following last year's sold out event, the Redhills team have added extra capacity for Zombie Slay this year for the October Bank Holiday weekend (28th and 29th) and added two brand new attractions, Screamfields Haunted Field of the Dead and Zombie Splat for the younger ones which takes place during the midterm break.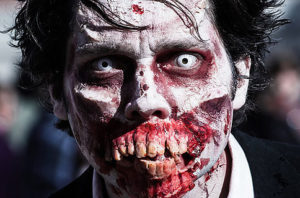 Can you survive the Zombie Apocalypse and slay the meanest of Zombies or make it through our brand new attraction Screamfields Haunted Field in one piece? This event promises to be the perfect mix of adrenalin fueled fun and the right amount of scare and is not to be missed this Halloween.
The story is that the world is on a knife edge as an outbreak of an untraceable virus is threatening to exterminate all of mankind. In small groups, you will be escorted through the infected compound with a mission to find the antidote and save the world!
Either equipped with a Zombie Blaster you will slay your way through the eerie compound (Zombie Slay) or attempt to make it unarmed through the most terrifying of all, a 12 foot high tall grass field, Screamfields, with its narrow meandering paths and crazy inhabitants! The event takes place in the dark and is guaranteed to make the hair stand on your head!
There is a minimum age of 16 for those wishing to attend the event or if accompanied by an adult those aged between 12-15 are permitted on the 28th and 29th events and Zombie Splat tickets now on sale on this website for the younger ones aged 8-14 years.
Knocknagalliagh, Redhills, Co. Kildare