Adventure Starts Here!
Zipit School Tours allow your group to Get active, get connected and get outdoors. This is a great opportunity for students to enjoy an exhilarating and challenging outdoor activity in a natural setting, building confidence, teamwork and self-esteem. Students will feel a great sense of achievement as they conquer each activity, pushing their comfort zones in a completely safe environment but with the perception of risk. Big challenges or baby steps, our energetic instructors will encourage and motivate even the most nervous student, creating a lasting sense of achievement.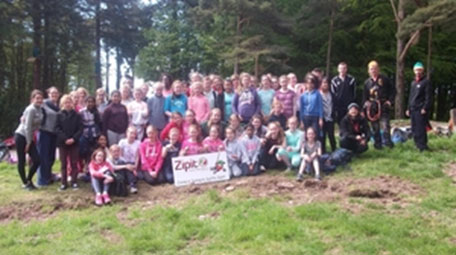 "Our students had a wonderful day and really enjoyed the experience."
"I'd like to pay tribute to the excellent staff."
"Thank you for a great day, the kids really enjoyed it, as did we."
We welcome primary school children from age 9 upwards and secondary students, with circuits to suit all ages and levels of fitness. Activities last for 4 hours. Safety is always paramount.
What better way to bond with your students, than participating alongside them and facing your fears too! Free participation and free tea and coffee for all teachers. However, we do ask that at least one teacher remains on the ground at all times, providing active supervision.
We can take 150+ students in any one day, by staggering start times. We have parallel initiation circuits to ensure a streamlined throughput so you can focus on enjoying your day out. To avoid queues and ensure an enjoyable time for all, we start approximately 45 students at one time, with the next group following one to two hours after. Please contact us for exact times, depending on size of group.
If you do have a very large group, the natural forest surrounds offers plenty of open space for games and trails through the forest. Coillte also offers orienteering. Log-on to Coillte.ie/activity/hiking for more details.
If you have children with special needs, please call us to discuss their needs. All children must be physically and mentally able to manage their own safety. SNA's must supervise children under their care on a one to one basis.
Zipit School Tours
Zipit Forest Adventures has secured a licence with Coillte (Irish Forestry Management Company) to exclusively develop this type of activity on Coillte owned land which covers about 445,000 hectares, about 7% of the land cover of Ireland.