Zipit Forest Adventures Aerial Trail is an action-packed, multi-platform, adrenaline-filled adventure journey for anyone from age 7 upwards with a basic level of fitness.
The courses are a great opportunity for school children to enjoy an exhilarating and challenging outdoor activity in a natural setting building confidence, teamwork and self-esteem. The schoolchildren will feel a great sense of achievement as they conquer each activity, pushing their comfort zones in a completely safe environment but with the perception of risk.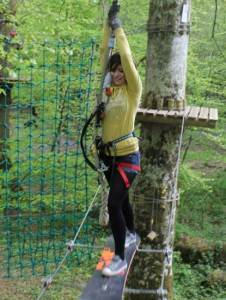 Of course, teachers are welcome to participate and all supervising teachers go free.   Younger schoolchildren will enjoy the nature walks learning about the natural forest habitat around them and it gives them an opportunity to combine a natural educational activity with a fun and challenging adventure.
Located in Dublin, Cork and Roscommon, we cater for School Groups ranging from 10 to 100 school children; our parallel initiation circuits ensure a streamlined throughput so you can focus on enjoying your day out.
Teachers are required to stay on-site with the children.
Prices for Primary School €15.00
Prices for Secondary School €16.00 – €20.00
Pre-booking is essential for School Groups so to avoid disappointment and to ensure we can make it a memorable day for you please call our Zipline (open Monday-Friday 10am-5pm ) on 051 858008.
Zipit Forest Adventures
Zipit Head Office
Burchall House
Parnell St
Waterford
Zipit Forest Adventures has secured a licence with Coillte (Irish Forestry Management Company) to exclusively develop this type of activity on Coillte owned land which covers about 445,000 hectares, about 7% of the land cover of Ireland.