The Adventure Starts Here!
If you're looking to organise a birthday party for any age but want to try something different, why not come to Zipit for up to 4 hours of fun and adrenaline.
What do people say?
"Fantastic time- Kids thoroughly enjoyed themselves. Celebrating daughters 16th birthday, she had so much fun with her friends- Thank you."
"The activities are great, but it's the staff that make the experience."
"They are brilliant with the kids- patient, kind and encouraging. They go the extra mile! Best birthday ever! That was amazing, so much fun!"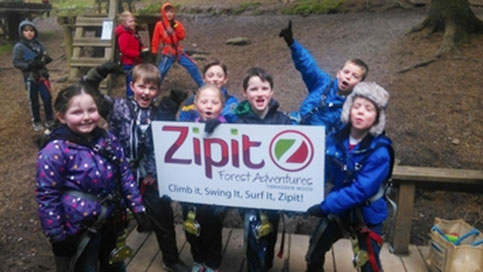 Hundreds of children have celebrated their birthdays at Zipit, but, it's not just for the kids. Zipit is a great way to mark those significant milestones, whether it's an official entry to adulthood, a key to the door, or a life begins at 40 to mention a few, let's not limit ourselves. So, whether you are a child or an adult, join us for a unique day that will stay with you forever.
A 30 – 45 minute instruction session is required, before you can move on through the circuits, so if you only have 2 hours to spend, you really will only get one circuit completed. Allow the time to make your day so much more enjoyable.
Zipit Children's Birthday Parties
When booking a birthday for a group of 10 or more under 12's, the birthday girl/boy will get a free t-shirt or alternative gift. With the activity lasting 3 – 4 hours, you will need to allow extra time for food / cake. We do not have café facilities on site at Zipit, only drinks, chocolate and crisps. But you are welcome to bring along your own food / drink and use our tables and chairs at our outdoor decking area, outside the cabin. There are also picnic benches scattered around the parks.
Zipit Birthday Parties for Under 9
7 – 8-year old's can complete the green circuit only, but can go around as many times as they want within their allocated time. It's a fairly "hands-on" party for supervisors and the bigger the group, the more you will be in demand! We advise a maximum number of 15 if all the children are 7-8.
Prices
Groups of 10 or more receive a 10% discount.
Supervision for Childrens's Birthday Party
All children under 18 must be supervised. The bigger the group, the more supervisors required. A supervisor must be able to see all of the children under their care, all of the time. So, if you have 10 children, you would need at least 2 supervisors, maybe more if the children are different ages, in case they split onto different circuits. When booking your party for a group of 16 or more, you will need to contact Head Office on
051 858008 and we can advise you about supervision for your group.
All participants are given a short training session, and we have intructors all around the park, should the children need help.
Zipit Lough Key
Lough Key Forest & Activity Park,
Boyle,
Co. Roscommon
Tel : +353 (0)71 9662893
Zipit Tibradden
Tibradden
Dublin 16
Dublin
Tel : +353 (0)1 4952340
Zipit Farran Wood
Cork
Email : info@zipit.ie
Visit web site