Wooly Wards Farm Halloween Activities include: Halloween Show, House of Horrors, Creepy Creatures, Fuinneamh Drum, Pumpkin Carving And Lots Lots More!!
Event Dates: Saturday 22nd, Sunday 23rd, Saturday 29th, Sunday 30th & Monday 31st October from 2-5pm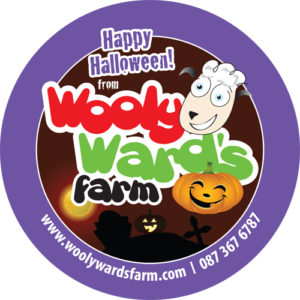 Scary Mary, Cathal & their family set up Wooly Ward's Farm in 2011 when they saw the level of interest people and children had with farm animals. Over the four years they have put three mobile farms on the road, opened up their own farm for private parties and events and entertained thousands of people with their animal theatre and petting zoo. In 2015, they added the Reptile and Exotic Zoo to their collection of mobile units.
They have built up a highly trained team of young and energetic staff of approx 30 who work alongside Scary Mary, Cathal, daughters Amy & Laura,  sons Sean & Rob and recently Caroline & Heather aged 10 & 8 who launched their acting career last Halloween!
Staff have backgrounds in Childcare, Drama, Tourism, Food Science, Animal Husbandry & Veterinary to name but a few. All staff undergo First Aid, Animal Handling & customer service training on an ongoing basis.
Mary's Farm has been in the Ward Family for over 400 years and her parents both in their nineties still live on the farm. The farm has primarily been involved in sheep, beef & tillage over the years.
Mary's background is in Agriculture having studied both in Ireland & Europe in her formative years.
As well as animal knowledge Mary & Cathal have a wealth of experience with children, having reared 7 little darlings – 4 girls and 3 boys!
Wooly Ward's Farm Halloween
Whitestown,
Oldtown (on the Garristown Rd R130),
Co. Dublin
(Just off the Swords to Ashbourne road)
Tel: 087 367 6787
Email: info@woolywardsfarm.com
Visit web site