Wooly Farm Dublin School Tours offer visitors a special experience. Up to 3 hours of action packed activities. Each group allocated a team leader who will guide you around the farm. Let the children be educated & entertained at the same time! Our latest attraction is the Reptile Lab. Meet Axel & Rose the Pythons among others!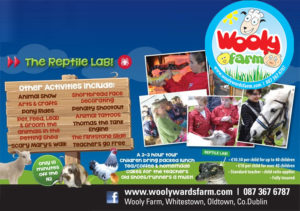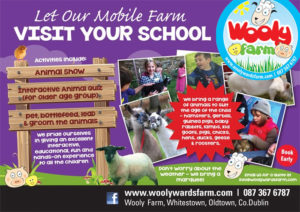 Wooly Farm Dublin School Tours
Mary, Cathal & their family set up Wooly Ward's Farm in 2011 when they saw the level of interest people and children had with farm animals. Known as Wooly Farm since late 2017, over previous years they have put three mobile farms on the road, opened up their own farm for private parties and events and entertained thousands of people with their animal theatre and petting zoo. They have built up a highly trained team of young and energetic staff of approx 30 who work alongside Mary, Cathal, daughters Amy & Laura and son Rob
Staff have backgrounds in Childcare, Drama, Tourism, Food Science, Animal Husbandry & Veterinary to name but a few. All staff undergoes First Aid Training, Animal Handling & customer service on an ongoing basis.
Mary's Farm has been in the Ward Family for over 400 years and her parents both in their nineties still live on the farm. The farm has primarily been involved in sheep, beef & tillage over the years.
Mary's background is in Agriculture having studied both in Ireland & Europe in her formative years.
As well as animal knowledge Mary & Cathal have a wealth of experience with children, having reared 7 little darlings – 4 girls and 3 boys!
Wooly Farm Dublin School Tours
Whitestown
Oldtown
Co Dublin
Tel : 087 3676787
Visit web site