Viking Splash Dublin will get you in the party spirit with a light-hearted raid on Dublin's Fair city and complete the celebration with a thrilling splash into the Grand Canal Basin at Ringsend!
What better way to treat the birthday boy or girl than with a trip on board Dublin's most exciting city tour? Prices are from €10 per child call us to make your booking.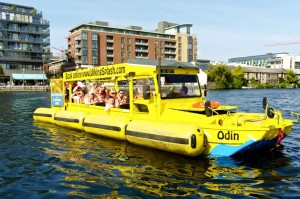 Prices
Children (less than 10 people):  – €12
Adults:  –  €20
Children (10 people or more):  – €10
Adults (10 people or more):  – €20
Our exciting Dublin tours depart from Stephen's Green North close to Grafton Street. Keep an eye out for the Viking Splash Tours bus stop on Stephen's Green North located just behind the taxi rank and water fountain.
Birthday party ideas in Dublin
After your tour, why not take the party to one of our super partners below?

"A dozen eager young Vikings (aged 5-7) celebrated my daughter's 7th birthday aboard the Viking Splash with Vinnie at the helm. He was great with the kids and made the tour both fun for them and entertaining for the adults. I was also impressed by the team behind the scenes — the ladies in the office, the men handling the life jackets — everything ran so smoothly and easily. Even the weather cooperated! Highly recommended"

Viking Splash Tours
Departure Point : Stephen's Green North
Dublin
Tel : +353 1 7076000
Email : info@vikingsplash.ie
Web :
vikingsplash.com