It's that time of year again, Ghosts, Dolls, and ghouls alike, have descended onto Wooly Farm for Halloween. Come meet Polly and Molly the dollies in our barn theatre, carve your own spooky pumpkin, learn a rhythm on the Fuinneamh Drum, and stuff yourself with a chocolate apple.
Now running in its sixth year, Wooly Farm is the place to be this Halloween with lots of activities to do from 2-5pm on Saturday 21st, Sunday 22nd, Saturday 28th, Sunday 29th, Monday the 30th, and Tuesday the 31st of October. Don't miss their Halloween Spectacular!
Scary Mary and her family have welcomed visitors every Halloween for the past six years, with the event getting bigger and better every year!
Halloween Pricing:
For entrance to the Farm for the 3 hours, tickets cost €15 per child (to include a pumpkin, chocolate apple, and all activities), €7 per adult, or €55 for a family pass (2 adults & 3 children). Under 2's go free (€7 if they wish to take home a pumpkin and a chocolate apple).
Pre-booking is required to ensure you receive your pumpkin and chocolate apple. You can book online now at woolywardsfarm.com or call them at 0873676787.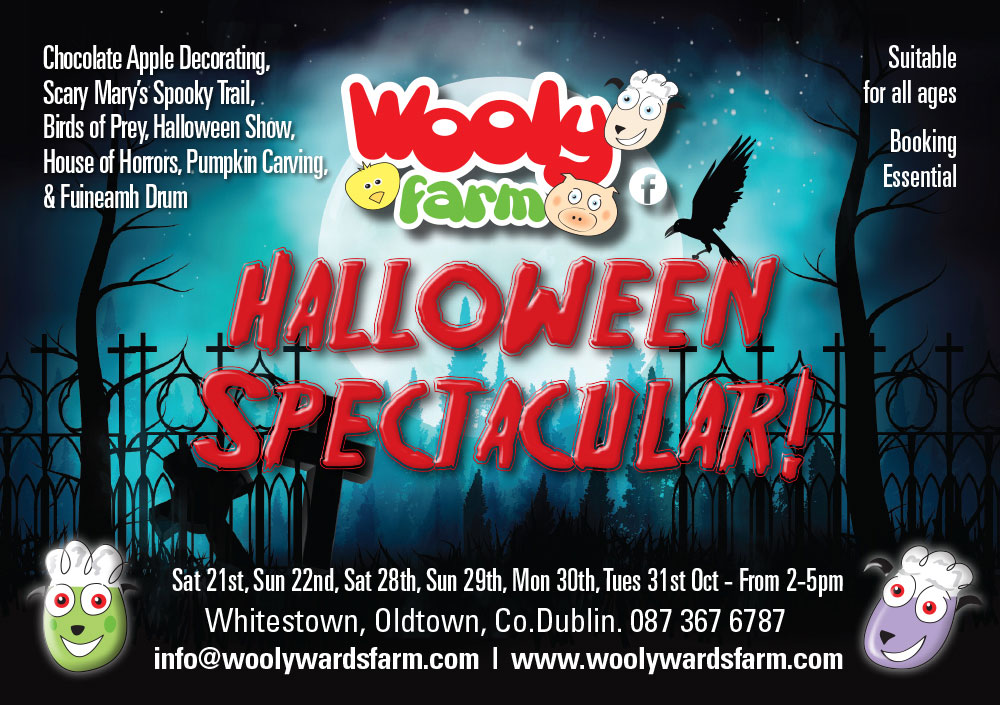 Wooly Farm Dublin Halloween Event
Whitestown,
Oldtown (on the Garristown Rd R130),
Co. Dublin
(Just off the Swords to Ashbourne road)
Tel: 087 367 6787
Email: info@woolywardsfarm.com
Visit web site