Ambushed Paintball and Laser Tag games, situated 50 minutes from Dublin and one hour from Galway just off the M6 is one of Ireland's leading action packed paintball and laser tag venues.
Help your team become paintball legends by leading them to glory in our exhilarating custom designed paintball battle zones. We provide the best equipment and facilities possible ensuring your paintball experience is action packed and highly enjoyable. Based in deep woodland terrain our 5 unique game zones will offer you with truly battle-like scenarios. Our highly experienced marshals provide the safest environment for you and your team to enjoy our games while also supplying battle winning training prior to the commencement of the games.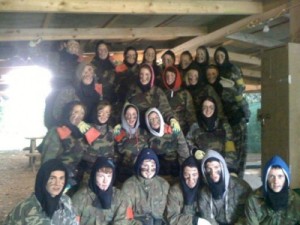 Laser Tag
Laser Tag includes all the fun of paintball minus the mess. Our laser tag games are a great way to enjoy all occasion's birthday parties, school tours & trips. Battle your way from behind enemy lines or lead your team on a rescue mission through our epic encounter battle zones. Our venue is situated in woodland terrain providing real life- like battle scenarios.
Get the adrenalin pumping with our action packed laser battle areas and experience the joys of overcoming tricky encounters and leading your team to victory.
Laser Tag is ideal for school outings and birthday parties. Participants must be aged 8 years and up. Each session lasts one hour and half and full day packages are also available. Upon arrival your team will be fitted with fully camouflaged gear (camouflaged face painting is available) and equipped with a laser tag gun. Prior to the action starting our marshals will take you through game rules to help ensure the safety of your group. Groups will be divided into two teams and the games will then commence.
Laser Tag guns are electronic. Each game is played with 10 lives and once you are hit by the opposition a life is eliminated from your gun. When all your lives are gone you are out of the game.
Our experienced marshals will be on hand should you or your team require any assistance during the games. Our Safe Zone allows for spectators to keep up with all the action from a safe distance.
Our superb facilities cater for large schools, parties and groups and discounts are available depending on the size of the teams.
Games Venue :
Gaybrook Demesne
Mullingar
Co Westmeath
Booking Office :
Garrane
Iochtair
Tyrrellspass
Co Westmeath
Tel / Fax: 044 9334966
Mobile: 086 8593004
Email: sales@paintballing.ie
Web : www.paintballing.ie