If you are brave enough, get into the Spirit of Halloween with the Waterford & Suir Valley Railway's 'Spooky Express' 2015.
Spooky Express Waterford Times
Date : Saturday 24th October 2015
Times : 5.15pm, 6pm, 6.45pm, 7.30pm, 8.15pm and 9pm
Ticket Prices
Adults – €13.00
Children under 16 – €10.00
All tickets must be booked and paid for in advance – Please telephone to check availability.
Spooky, kooky, creepy, and fun!
Halloween is the time of Ghosts, Goblins, Gravestones and Graveyards.
Of Spooks and Spirits and silly-fun tricks.
Of Witches and Warlocks and Scary Black Cats.
And Peanuts, Toffee Apples, Pumpkins and Bats.
Each year brave families visit the railway and take a thirty minute trip through the haunted area in the dark, where anything can happen!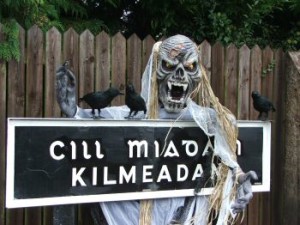 The content of the trip may be too scary for some children, tickets will be sold at parents discretion only. Strobe lighting will be used. Wrap up well to keep warm and snug on the train.
Check out the Spooky Express Waterford photo gallery.
Experience the beauty of the Suir Valley from a period carriage as you take in the panoramic views of the river,and rolling farmland of Waterford and across the river to County Kilkenny. The track runs mostly along the picturesque banks of the River Suir offering views of the world famous Mount Congreve Gardens. This is an area rich in history and only accessible by train.
The rolling stock includes a restored Simplex Locomotive, which had an arduous working life in the peat industry in the North of England and Scotland. It was also used in excavating the Channel Tunnel. It now pulls two partially open carriages travelling at 15km per hour and can accommodate up to 90 passengers. The journey time is 40 minutes Sunday to Friday, 50 minutes on Saturday.
Spooky Express Waterford
Waterford & Suir Valley Railway Company
Kilmeadan Station
Kilmeadan
Co Waterford
Tel : 051 384058
Email : info@wsvrailway.ie
Web : Spooky Express Waterford