Visit Santa in Gorey at his Kia Ora Mini Farm Magical Christmas Experience
Santa is delighted to announce his return to the Winter Wonderland that is Kia Ora Mini Farm. Come visit the animals, see Santa's cosy home and view in amazement our Magical Musical Light Show.
Admission: €18 per child, €10 for small babies who are not yet able to walk (if want a present – if not they are free) and €8 per adult. NO BOOKING REQUIRED
Each good child will receive an "I'm on the Good List" Key from Santa, which will give them access to our fantastic new present room where they can pick their own unwrapped present from our large range.
From start to finish a visit to Santa at Kia Ora is full of sparkle. The farm will be covered in thousands of lights and decorations, Sing fun Christmas sing a long songs on the fire engine,get lost in the maze and dig on our REAL DIGGERS – fun for all the family, no booking required!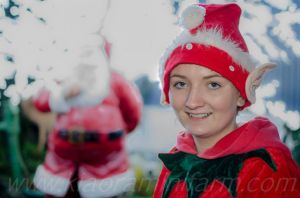 Spend some time visiting the animals in our live stable of Bethlehem and also an illuminated crib. Check out Santa's reindeer are resting in anticipation of their big journey on Christmas Eve. View Santa's kitchen, bedroom, workshop and even his Post Office where you can post your Santa Letters before seeing the big man in red himself and Mrs. Claus. Tell Santa all your Christmas Wishes and discover if you are on the Good List. Receive an "I'm on the Good List" Magic Key if you have made the Good List, which will unlock the Giant Present room where an Elf will help each child pick their own perfect Christmas Gift from a large selection of unwrapped presents.
Christmas is a time of peace and joy and best spent with loved ones, where better to get back to nature and enjoy the simple pleasures in life than at Kia Ora Mini farm . Our aviary has a fantastic selection of birds and during the winter the majority of our animals are indoors so no matter what the weather is like you can come and have fun and see all the cute little animals in the barn such as rabbits, hamsters, guinea pigs, mice and rats!!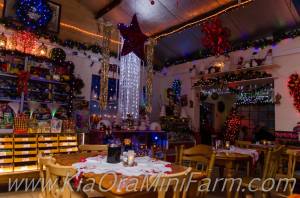 Santa's house is indoors but our advice is to dress warmly to enjoy all the farm has to offer. Our animals are all housed indoors for the winter making your experience much more up close and personal.
IMPORTANT NOTE: We do our very best to ensure that queuing is as short a time as possible but obviously with no bookings sometimes are busier than others and we find that weekends are our busiest times so if you want to avoid queues altogether or to have a short queue time we would recommend coming on week nights between 4-7pm. We find that the lights are more magical in the evening times and our visitors get the full benefits. Don't forget to dress warmly – Christmas Hats are always a good idea!
NO NEED TO BOOK!
BOOKING ONLY REQUIRED FOR SCHOOLS / CRECHES / PLAYGROUPS / LARGE GROUPS / BIRTHDAY PARTIES/CORPORATE GROUPS.
Opening Hours Christmas 2017
November
Saturday, 25th & Sunday 26th: 1pm – 6pm
December
Saturday, 2nd & Sunday, 3rd: 1pm – 6pm
Friday, 8th : Evening 4pm – 7pm
Saturday, 9th & Sunday, 10th: 1pm – 6 pm
Mon, 11th, Tues 12th, Wed 13th, Thurs 14th & Fri, 15th: Each Evening 4pm to 7pm
Saturday, 16th & Sunday, 17th: 1pm to 6pm
Mon 18th, Tues 19th, Wed 20th & Thurs 21st : 4pm – 7pm Each Evening
Friday 22nd & Saturday 23rd 1pm – 6pm
CLOSED ON CHRISTMAS EVE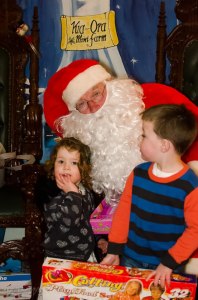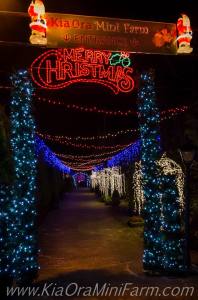 Address : Courteencurragh, Gorey, Co. Wexford
Phone : 053 9421166 / 086-8788424 / 086-0836715
Web address : www.kiaoraminifarm.com