HALLOWEEN EVENTS AT RANCHO REILLY CARLOW!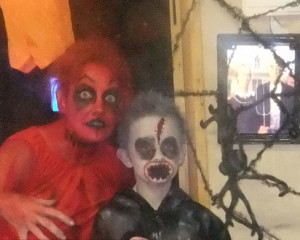 On the 31st October we hold a Fancy Dress Halloween Party at Rancho Reilly Carlow from 3pm – 6.30pm!There is a Disco Room for the little ones to dance their energy off and the Spooky Disco Den can be
found outdoors. All our usual Pet Farm activities run up until 6.00 (Barrel Train, Pony Rides, Petting animals etc.)We light our bonfire between 5.30 – 6pm which is sure to get you in the mood for trick or treating!!Cost €7 per child (includes a treat bag given on arrival) €3 per adultWelcome to Rancho Reilly Carlow Pet Farm with indoor and outdoor activity areas and campsite!

We cater for Birthday Parties, School Tours, Group Tours, School Break Camp & Santa Trips. Some of our events include Easter Day Hunts,School Holiday Camps,Halloween Disco & Bonfire.
The famous Rancho Reilly Santa Experience – Check out our photo's from last years Santa Experience.
An amazing trip, lots to do and wonderful memories to take away!
Ranchos is a relaxed, fun experience for all the family! As you have access to Pet Farm and Activity Centre from early morning until the sun goes down the children are guaranteed to finish every day happy and exhausted.
Rancho Reilly Carlow