OWLS Survival Birthday Parties – Dublin can now be booked offering a fun day out for your children and something that your child and their friends are sure to remember for a long time.  Ideal for kids who love being outdoors, the OWLS Survival Party is a great adventure to offer children and their friends.  They'll have 2 hours of fun in the outdoors, with the opportunity to play and create for themselves but also learning about their surroundings. It all takes place under the careful supervision of OWLS leaders and children's parents.
OWLS Survival Birthday Parties – Dublin
The parties are based on the theme of survival and incorporate education, awareness, team building and enjoyment.  The group are given a challenge to build shelters using natural materials, light a fire to toast marshmallows or cook popcorn and also be sure that their team wins the forest games.  Teams must survive by hiding within their shelter or how about capturing a person from the other team?  It's all great fun and the group finish the experience with cooked popcorn and singing around the campfire.
Leaders are Gardai vetted and follow strict guidelines when working with children.  For each event, at least one leader is first aid trained.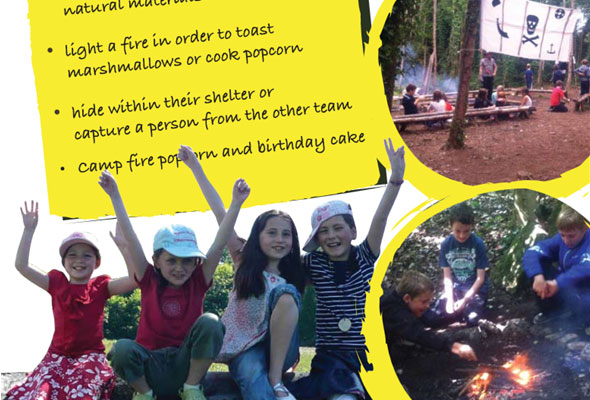 Times; Approx. two hours
Sites: As this is an outdoor service, there is an option of two sites. Fitzsimon's Wood, Dundrum (Southside) or Turvey Park, Donabate (Northside).
The OWLS leaders will provide the resources to run the event.  The childrens' parents / guardians may provide refreshments should they wish to. From experience, most guardians bring along snacks, drinks and we finish off the party with a cake.
Fees; For the first 15 children €150, there after €250.
Other facilities: There are no toilets at either location although we can hire day porto loos, but this will add to the cost.  Portaloos are €100 a day to hire.
Tel : 087 32 999 36
Email : info@owls.ie
Web : www.owls.ie