Looking for a venue and activity for your birthday?
Well why not choose Munster Footgolf for a great day of activity both on and off the course.
Birthday goers also have free use of the Giant footdarts, Connect 4 and hurling darts on our massive 15ft inflatable dart board.
Giant Chess and Draughts are also available as is our foot tennis court.
Call us fro more details and to book your perfect package.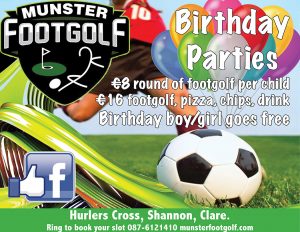 About Munster Footgolf
Set up by John "Lancer" Callinan, Munster Footgolf brings the unique sport of footgolf to its new home in the Banner County.
With its arrival to Shannon comes a chance to enjoy one of the fastest growing games in Ireland right now.
The Hurlers Cross course is now host to 18 holes situated on undulating parkland surrounded by trees, fun and challenges alike.
Try our newest off course activities like our giant inflatable dartboard for footdarts and hurling darts or giant Connect4, giant chess or giant draughts.
Open 7-days
Hurlers Cross
Shannon
Co Clare
Tel : 061-326997 or mobile 087-6121410
Email : john@munsterfootgolf.com
Web : munsterfootgolf.com
Facebook