Imaginosity Dublin Trick or Treat is the most spooktacular party in town. This Halloween, join Imaginosity Dublin Children's Museum and get set to 'Trick or Treat for Temple Street' with a bewitching after hours session of fiendish fun, raising money for a great cause! FRIDAY 28TH OCTOBER, join us in your most creative spooky attire after hours from 5.30-7.30pm for our Halloween Spooktacular.
Tickets for this VERY special event are on sale NOW (01-2176130), standard museum admission rates apply, with ALL proceeds from the night going directly to Trick or Treat for Temple Street childrens hospital.
Festivities on the night will include:-
– HALLOWEEN DISCO
– SPOOKY STORYTIME
– PRIZES FOR THE 'BEST DRESSED' KIDS…..AND ADULTS!
– HALLOWEEN BAKE SALE
– SUPERHERO MEET & GREET
– 'TRICK OR TREAT' GAMES….AND MUCH MUCH MORE!
We will also be holding a Monster Raffle on the night itself with some AMAZING prizes up for grabs for a lucky few!
Our favourite Superhero's Spiderman & Batman will also be swooping in for a very special Halloween visit to join us and help raise money for this great cause. For a small donation you can meet Spiderman & Batman in person, and have your own spooky picture taken with them!
Imaginosity Dublin Trick or Treat
Visit The Plaza
Beacon South Quarter
Sandyford
Dublin 18
Tel: + 353 (1) 2176130
Fax:+ 353 (1) 2176136
info@imaginosity.ie
Visit web site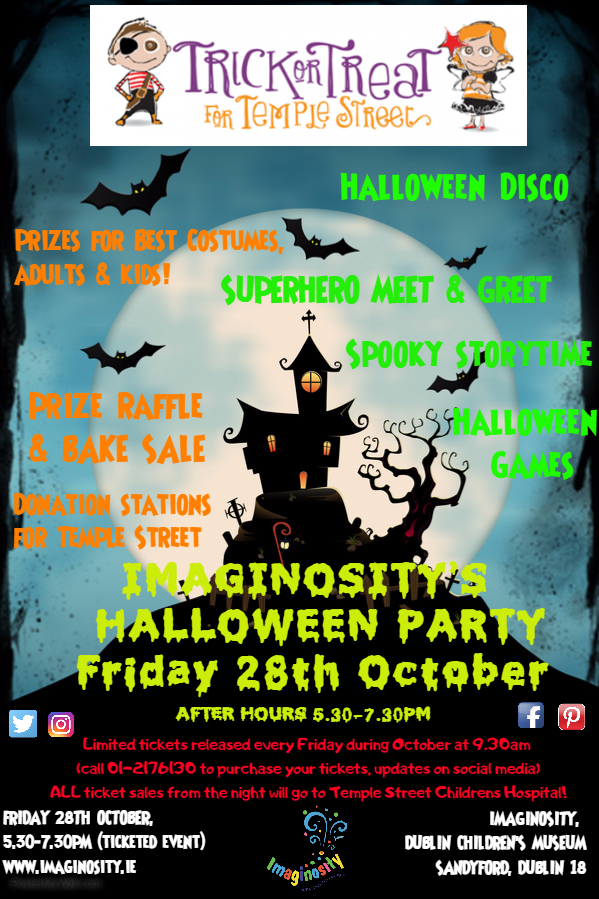 About Imaginosity
Imaginosity, Ireland's only interactive children's museum for the under 9's is dedicated to children's success. We opened at the end of August 2007 and since then we have welcomed over 650,000 people through our doors. Children learn best when they're having fun. Imaginosity champions the 'hands-on, minds-on' philosophy that encourages all visitors to get involved and have fun while learning and create positive and lasting memories. Imaginosity offers a wide variety of workshops and classes in arts and crafts, computers, music and theatre everyday in the Art Studio, in the Children's Theatre Space and in the Cyber Room – and most are free with admission. Workershops operate on a first come;first-served basis. Please check with reception on your arrival.