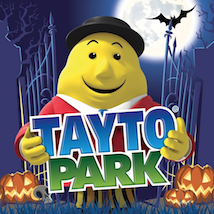 Halloween at Tayto Park
20th October – 5th November
This year we have a selection of terrifying events here at Tayto Park, suitable for trick or treaters of all ages.
Morbid Manor (Night Time Event) – Confront the Darkness Ages 14+
Over Halloween in Tayto Park, a spooky abandoned mansion is transformed into Morbid Manor, the ultimate immersive horror experience with 13 actors in full costume. Willing guests will pass through various rooms and secret passageways and meet the inhabitants of the haunted manor, both dead and alive.
Before entering the manor, guests will have to make it through the CarnEVIL. Beware of the creepy clowns and jilted jesters that roam around the deserted carousel in Tayto Park after dark. Adrenaline junkies can then catch a night ride on The Cú Chulainn Coaster, Air Racer, Rotator, Windstar & Endeavour before experiencing the terrifying 5D horror movie, Fun House Express.
Morbid Manor is open to the public from Friday 20th October and runs on select dates until 30th October and is suitable for over 14's. For more information and to book tickets please visit http://www.taytopark.ie/events.
For just €30 per person, entry includes:
Night Ride on 8 thrill seeking attractions including the Cu Chulainn Coaster.
Entry to the dreaded Morbid Manor & The Carnival.
Experience a 5d Horror Movie
*For just €20 per person, guests can enjoy 8 thrill seeking attractions without access to Morbid Manor!
Opening Dates: 20th, 21st, 22nd, 25th – 30th October from 7:30pm – 11pm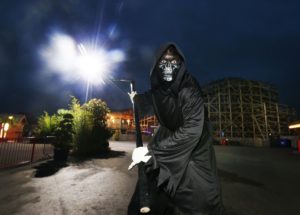 Ghost Hunters (Day Time Event) Ages 6+
The Spectral Forces Investigation Unit is looking for brave new recruits to join the team and help investigate a series of strange happenings at Morbid Manor! Reports have recently surfaced from local residents detailing a series of strange happenings. Preliminary investigations by local law enforcement have so far failed to provide an answer, but now the Spectral Forces Investigation Unit has been called in to help discover if the answer lies on the other side! Are you brave enough to join the team and enter Morbid Manor? Will you discover the secrets within?
Just €6 per person or included with wristband purchase.
Opening Dates: 20th, 21st & 22nd October and 28th October – 5th November from 12pm – 4pm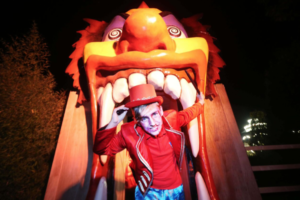 Halloween Fun Activities For All Ages
Free Halloween themed face painting and arts & crafts.
Beware… The Carnival is back! Can you walk amongst these misfits of the circus? They crave attention and will stop at nothing to put a smile on your face. Or a scream.
KIDS GO FREE! on October 31st if they are wearing a Halloween costume.
Included in entry price.
Opening Dates: 20th, 21st & 22nd October and 28th October – 5th November from 11am – 4pm
Competition
Fancy winning a family pass (2 adults & 2 children) to Tayto Park this mid term? Just tell us how kids can go free to Tayto Park this Halloween? You can email your answer along with your contact details to info@dayout.ie or enter via facebook. Good luck!
Tayto Park
Kilbrew
Ashbourne
Co.Meath
Tel : +353 (0)1 835 1999
Web : www.taytopark.ie