Damnation comes to the RDS, Dublin
Experience the terror of Samuel Page's Nightmare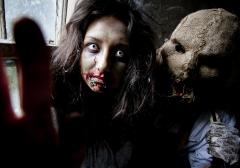 Dublin's RDS will become the number one stop for horror fans and thrill-seekers alike this October, as it plays host to the city's first interactive scare attraction, Damnation.
The rich history of the iconic Ballsbridge venue will be brought to life in a way that has never been witnessed before, as the terrifying fright experience delves deep into the horrors of Samuel Page's Nightmare, providing the ultimate fright night out for the sickest of souls.
The story revolves around the mysterious disappearance of Samuel Page, a blacksmith who operated locally in the 1830's. Samuel and his wife Sarah had two girls Becky and Hannah. For all intents and purposes the Pages were a normal family who were very much a part of the Dublin community in the mid-19th century. However, by night Samuel and his family ran a satanic cult from the basement in their home.  Once their evil practises were discovered, their house was burned to the ground by locals.  Bodies of all the family were discovered, except for Samuel's. For weeks afterward Dubliners were looking for the corpse of Page but it was never found.
Page's dark underworld will be brought to life by a team of professional actors, exploring all the elements of the occult, from voodoo to the supernatural and beyond. The terror will begin on October 1st, when Damnation opens its doors to those bold enough to visit the many unnerving stages of Samuel's demented mind.
The young man behind Damnation, Jonathan Slattery of the Hospitality Partnership said : "Halloween has always been popular with the Irish, it began here with the Celtic festival of Samhain and we exported it all over the world as we emigrated. Damnation will give people the opportunity to get in the Halloween spirit and bring it back to its roots. Having done extensive research on similar attractions in the US and Canada, we saw a gap in the market in Dublin for a genuine scare experience and an ultimate night out for the many thrill seekers in Ireland".
He went on to say "Damnation guarantees to thrill, excite and terrorise those who are brave enough and bold enough to test their fears."
This is a fully immersive experience featuring live actors, professionally designed sets, costume and terrifying scenes. This is definitely not for the faint hearted and is suitable for ages 16 and over. Tickets are available on www.ticketmaster.ie and through www.damnation.ie.
1st October – 2nd November
Tickets from €17 with student and group discounts available