Carrick Quads – The Wet'er the Better!

Prepare for a quad biking experience that you'll never forget. Carrick Quads adventure treks are set on over 100 acres of fantastic Irish countryside!
This off-road motor-powered adventure is perfect for all levels – from the novice to the experienced so everyone will have an amazing time regardless of the weather!
Perfect Outdoor Adventure For :
Corporate / Team Building
Stag and Hen Parties
School Tours
Birthdays
Family day out
Tourist Activities
Couples
Just for the fun of it!!
Book online!
DUE TO DEMAND – ADVANCE BOOKING IS ESSENTIAL & Safety Equipment is supplied
As we say at Carrick Quads "The Wetter the Better!"
Body armour kit supplied including; leg armour and helmets with all-weather over-alls (and wellies!). Instructor and guides with 10-15mins training video and practical to get you ready to roll out!
We require that pre-booked groups/ parties and individuals turn up 20 at least 20 minutes prior to trek time to ensure we can get you all geared up!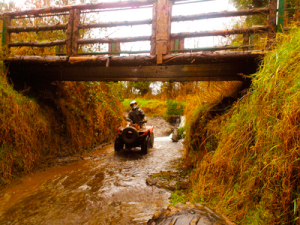 Carrick Quads, Carrick-On-Shannon, Leitrim
Tel : 086 7908777
Email : info@carrickquads.com
Web : www.carrickquads.com
Facebook : www.facebook.com/CarrickQuads