Birthday Parties at GoQuest Dublin offers ideal entertainment for groups of adult friends or children over 12 years old. If you're planning a get together or a party then GoQuest is the perfect fun activity.
GoQuest is a purpose built, interactive series of rooms and challenges designed for groups. If you are three to five people then you'll be taking part in one team. Higher numbers are split into multiple teams. They offer all inclusive group/party packages with food too. GoQuest has four themed challenge zones in a superb purpose built arena: Jungle Jeopardy, Time Travel, Sports & Play and Hidden Ireland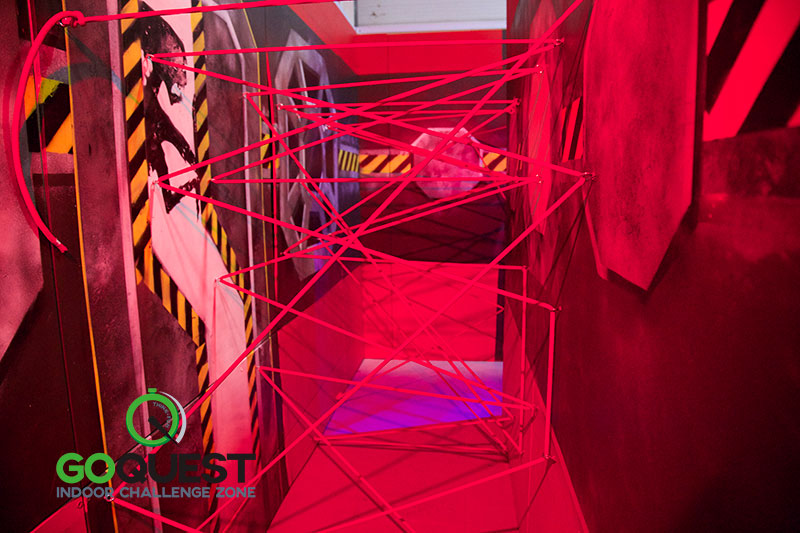 Birthday Parties at GoQuest Dublin
Fun, interactive entertainment for all
Action Packed
As competitive as you like.
Up to 60 People or more for exclusive bookings
Post activity catering options on site (ask us for details!)
Totally weather independent
Perfect for:
Parties for older children (12+)
Ideal for adult get togethers , significant birthdays and nights out
Stag & hen parties
Social groups, sports clubs and charities
Teenagers – secure environment, fun and secure entertainment
Do you like watching The Cube on TV or do you remember The Krypton Factor? If so, or if you like any sort of interactive challenge, then you'll love GoQuest. The purpose built arena contains 28 unique challenge rooms with a mixture of skill, light physical and mental challenges inside them. When you enter a room you have a limited amount of time to try and solve the challenge within – succeed and you'll get the points for that room, fail and you can re try it or attempt another challenge room. You're on a quest to get as many points as possible in a session and you'll have great fun doing it!
GoQuest has four themed challenge zones in the purpose built arena:Jungle Jeopardy, Time Travel, Sports & Play and Hidden Ireland. All of these zones contain themed rooms and the mix of (light) physical, skill and mental challenges. But once you're in the arena it's up to you where you go and which challenges you attempt. But be careful, the clock is ticking, the countdown is on and you're on a quest for points in the time available.
Birthday Parties at GoQuest Dublin
At Exit 5 M50
Unit 23 North Park Business Park
North Road
Dublin 11
Tel : 01 6855005