2016 updated information coming soon…
The Ark presents The Henry Girls in a festive music show celebrating some of the things we love to do and see when the world turns white.
"Walking through Winterland, what do you see?
Walking through Winterland, what could it be?"
Follow the heavenly harmonies of The Henry Girls into an enchanting world of winter. From sparkling icicles to wolves in the forest, the joy of sledding at high speed or the wonder of the Aurora Borealis on a frosty night, discover the magic and mysteries of the festive season in a music performance made for children.
And just what did make those tracks in the snow? Find out as the band's playful humour and trademark folk and trad melodies bring to life some of the things that we love to do and see when the world turns white.
Tracks in the Snow has been commissioned and produced by The Ark as we continue to work with artists to create high-quality live music experiences crafted especially for young audiences.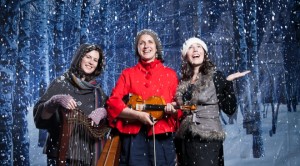 Tickets
€5 per student
€4.50 Early Bird price
(available for ArkEd members if booked by Fri 24 Oct)
To become an ArkEd Member please go to our schools page.
Dates & Times
Previews
Wed 2 & Thu 3 Dec @ 10.15am & 12.15pm
Performances
Fri 4 Dec @ 12.15pm
Wed 9 – Fri 11 & Wed 16 – Fri 18 Dec @ 10.15am & 12.15pm
Autism Friendly Performance
Fri 11 Dec @ 12.15pm
Age Range & Duration
For 1st – 6th Class. Approx 50mins.
Artists
The Henry Girls
Production Information
Written & Performed by: The Henry Girls: Karen, Joleen & Lorna McLaughlin
Double Bass: Dave Redmond
Designer: Sinéad O'Hanlon
Lighting Designer: Mark Galione
Commissioned & Produced by: The Ark
The Ark
A Different Experience Every Visit
11a Eustace St,
Temple Bar, Dublin 2
Tel : 01 6707788
Email : boxoffice@ark.ie
Web : ark.ie
The Ark is a unique, purpose-built cultural centre in the heart of Dublin's Temple Bar, where children aged 2 -12 can explore theatre, music, literature, art, film, dance and more. Our programme of world class performances, exhibitions and creative workshops changes every few weeks, so expect a different experience every visit.